Ferret Toys
There are many different types of toys available that you can purchase for your ferret, but all too often they enjoy the packaging more than the toy itself. Homemade toys are a great way to provide stimulation using inexpensive items, or items found around your house. Interactive toys that stimulate their natural instincts, intellect, and curiosity are the best – such as tunnels, Foraging Toys, dig boxes, teaser toys, etc. Constantly rotating toys keeps them "new" and fresh – a toy that has been hiding for a few weeks or more and suddenly taken back out is like getting a brand new toy!! This keeps them interested and excited, and helps reduce them becoming bored of the toys they have. 
Remember – no toy is ever better than interaction with their humans.
Below are some safe, fun toy ideas that you could try with your own ferrets…
1.) Dig Boxes
Dig boxes are a fantastic way to stimulate your ferret's natural instincts to dig (while simultaneously helping to save your carpets from their digging behavior)! Ferrets are burrowers by nature, so they WILL dig not matter what – it is helpful to channel their digging into a fun, safe, non-destructive outlet. A dig box can easily be created out of any box or rubbermaid bin. Dix boxes can be filled with a wide variety of materials such as:
long-grain rice (NEVER use Instant rice as it is very dangerous if ingested)

Added bonus: rice will help to absorb excess oils and loose fur from your ferret, acting like a "dry bath" and can help reduce odor. Change your rice when it begins to turn yellowish from their oils.

dried beans
ping pong balls
plastic balls (not recommended for ferrets who chew unless you find hard plastic balls)
starch packing peanuts

NOTE: STARCH peanuts only, styrofoam peanuts are a blockage hazard and are very dangerous. To tell if your peanuts are starch or styrofoam, place one in a cup of water. A starch peanut will dissolve, styrofoam peanuts will not.

plastic easter eggs
sand or soil (organic, pesticide and fertilizer free)
Use your imagination!!
2.) Tunnels
Tunnels are another great way to stimulate your ferret's natural instincts to burrow, and are so fun to watch them whiz through. Tunnels can be purchased from the store, or you can build your own! Here are a few ideas for tunnels:
Flexible Aluminum or Plastic Dryer Ducts (found at any hardware store, WalMart or other supermarkets, or at the links below):

Note: Do NOT use the semi-rigid aluminum ducts as they have sharp edges

Plastic Drain Pipe (super cheap at hardware stores)
FerreTrail Tunnels

FerreTrail Flex-E Funnel [WARNING: These may compress and ferrets have been known to get stuck if the free ends are not anchored]

Crinkly Cat Tunnels
2L Soda Bottles

cut the ends off and tape together to create your own custom tunnel!

Cardboard boxes

(e.g. long, thin boxes that soda comes in) taped end to end to create custom tunnels
Tunnels may be connected in fun configurations using elbow and T pieces!
Tunnels may be used on their own, or you can construct new designs to your heart's desire! Examples include connecting tunnels to rubbermaid bins or boxes, wrapping tunnels around a cat tree for a safe climb up and down, or running tunnels along walls for wild mazes!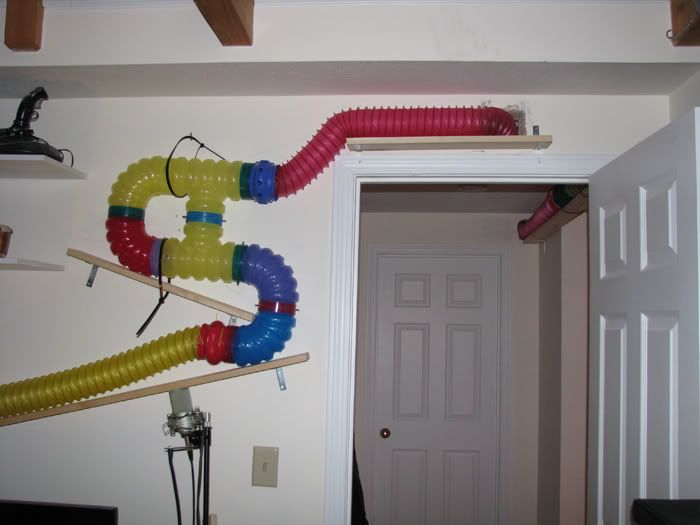 3.) Box Towers/Mazes
Ferrets are easy to please and while you may be tempted to buy a lot of expensive toys for them, you will quickly learn that they are often far more interested in the box the toy came in than the toy itself! Boxes can be connected to each other to create fun towers, caves, and mazes. Attach boxes to tunnels to amp up the fun. Or fill a box with blankets for a nice sleep spot.
4.) Foraging Toys
Foraging Toys are a great way to keep your ferrets occupied when you are busy or traveling, as well as providing great mental stimulation! See the Foraging Toys Page for more ideas!
5.) Teaser Toys
Teaser toys help to stimulate your little carnivore's natural hunting instincts. And it is endlessly fun to watch them chase and jump after a teaser! Teasers can be bought in the cat toy department, or you can make your own by tying a favorite toy OR food item to a string.
6.) Noise Making Toys
Noise making toys are exciting and stimulating toy – and even deaf ferrets can feel the vibrations made by the toy.
Jingle Bell Cat Toys [WARNING: If the balls have any holes in them, determined ferrets can get their teeth caught in the holes OR can crack the toys open to get the jingle-bell out of the center. Try to find solid balls without holes to get their teeth into for leverage]
Plastic Maracas
Crinkle Tunnels
Rice or beans inside a plastic soda bottle or child-proof medicine bottle (WASH thoroughly first!)
Paper bags
7.) Sleeping Dens
In between playing, your ferret will want lots of refreshing naps! Providing a dark and cozy place for them to sleep will help them feel safe, as well as simulate their natural burrowing instincts. Sleeping dens can be made from rubbermaid bins or cardboard boxes, or you can get creative with your own ideas!
8.) Stashables
Ferrets' scientific name, mustela putorius furo, is derived from the Latin words for "smelly little thief," and indeed ferrets are well known as thieves! They love to steal items and hide them in their stash. Providing them with safe toys to stash can allow them to engage in this natural behavior, without stealing items that may be unsafe for them (such as rubber). Some ideas for stashable toys include:
Small stuffies
Use your imagination! Anything that is ferret-safe, and small enough to be carried or dragged is fair game for stashing!
Wonkies or Derby Eggs (Crocheted Eggs)
For extra stimulation, clean out a stash and toss the items around the room – then release your ferret to watch them scurry around to re-stash the items!
9.) Walks Outdoors
Okay so this isn't a toy…but walks outside (on a harness!!) are a fantastic way to stimulate your ferret's mind and body. It provides great exercise, and allows them to explore new smells, textures, and experiences. We recommend an H-Style harness for most ferrets.
10.) Use Your Imagination!!
Ferrets are intelligent, interactive animals who are quite easy to please. There are unlimited ways that you can provide them with constant and changing stimulation. Change their bedding, rearrange the play room, rotate out toys so they don't get bored, toss in new cardboard boxes from your latest Amazon shipment…. The world is their playground!
11.) YOU!!!!
Last but not least, every ferret's favorite toy is their human! No toy will ever replace human interaction. There are unlimited games that you can play with your ferret to keep them engaged and happy – this will also help with bonding! A few ideas include
Daily Massages
Chase or Tag
Chase the Shuffling Feet
Blanket/Towel Rides
Drag-the-Tunnel
Stuffie Wrestling
BONUS PHOTOS
Here are some extra pictures of some safe toy ideas!
Row 1 Left to Right: Wiffle ball, Babble ball, golf ball, hard plastic ball, wooden maraca egg, plastic Easter egg, 2 solid plastic jingle ball toys
Row 2 Left to Right: baby links, baby cups, canvas ball, foraging toy